International Yoga Day: 5 Best Poses for Beginners
Stretch Out Those Muscles for a Sound Mind and Body
With the constant stresses of our daily grind, many of us find it hard to take a break and relax. This affects our minds and bodies.
Yoga has long been promoted as a practical means to achieve physical and mental well-being. Its benefits have been so well documented that even the United Nations has declared June 21st of each year as the International Day of Yoga. The global event seeks to promote awareness of the many benefits of practicing this ancient physical, mental, and spiritual practice.
First practiced in India some 5,000 years ago, yoga is said to improve the strength and flexibility of its practitioners, lessen their back and arthritic pains, and boost their heart health. Yoga is also said to improve mental health as it helps ease stress and improve sleep and relaxation.
Are you up for it? If you're a yoga beginner, here are some simple poses you can try to get started on the practice.
Downward Facing Dog (Adho Mukha Svanasana)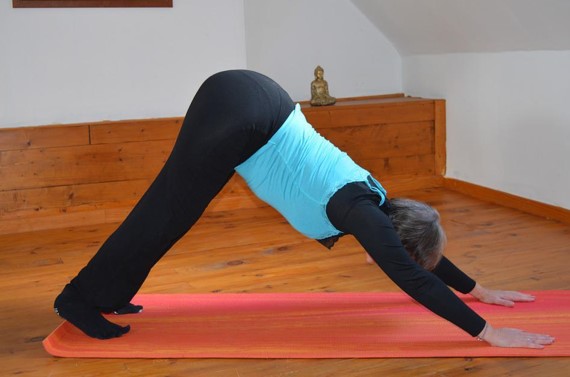 To perform this pose, start with a plank pose. Push your hands and lift your hips up and back in the inhale. Straighten your legs with your heels working toward the floor. Make sure to keep some space between your heels and the floor. For beginners, pedal your feet a little to warm up your leg muscles. Also, don't lean too far forward in this posture.
Mountain pose (Tadasana)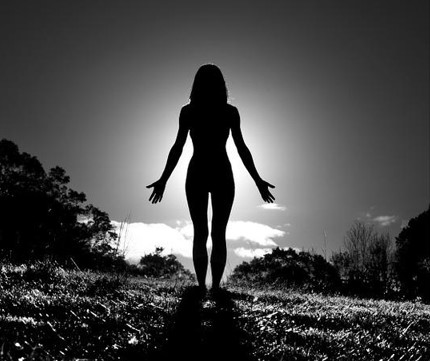 Mastering this pose is important because it can serve as the base of other poses. Stand with your big toes barely touching and your feet slightly apart. Make sure your toes are parallel. Press into all four corners of your feet. This includes the big toe, little toe, and left and right side heel. You will feel how this engages your leg and keeps the muscles active. Take a deep breath and roll your shoulders up and back, releasing them down, so your shoulder blades are resting toward each other and your neck is long. Take a few deep breaths. The alignment in the mountain pose draws a straight line from the crown of your head to your heels, with the shoulders and pelvis stacked along the line.
Standing Forward Bend (Uttanasana)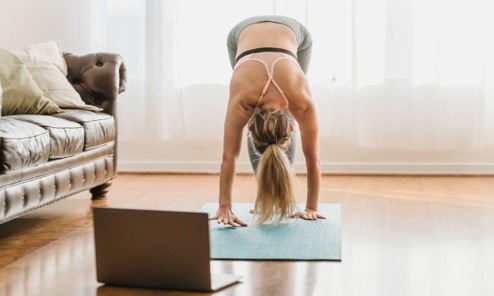 To do this pose, start by exhaling and folding over your legs. If the hamstrings feel a little tight at first, bend the knees so that you can release your spine. Let your head hang heavy. Make sure to keep the legs gently bent with feet hip-width apart for better stability, then clasp opposite elbows with opposite hands while swaying gently side to side.
Tree Pose (Vrksasana)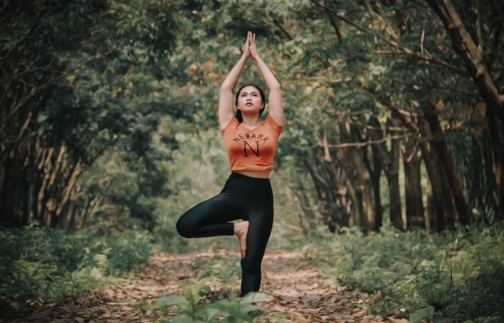 The tree pose may seem simple, but it will be a challenge to your balance. You can step out of the pose if you begin to feel yourself wobbling. One technique you can use is focusing your gaze on a spot on the floor and trying varying foot positions to see what works for you.
Plank Pose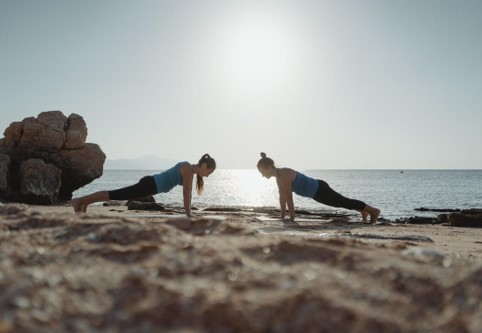 The plank is a balancing pose in yoga that develops your core strength. It helps you work on your stability and stamina. A good tip is to keep your hips and spine in a neutral position. Neutral hips and spine refer to the position of your hips and spine where they are in proper alignment and there is the least amount of stress placed upon them.
You Can Help Uplift the Lives of the Less Fortunate
Yoga promotes its practitioners' overall well-being. It's free and anybody can practice it anytime they want to. Unfortunately, not everyone has the desire to engage in the practice for a variety of reasons. They include the disadvantaged people in our country who are more concerned with overcoming the tough challenges they're facing in life.
You can do something to uplift the lives of the disadvantaged folks in your community — those who are burdened with disabilities, lack of education, job experience, or essential skills, and other limiting personal circumstances, such as having prison or police records and being welfare-dependent.
When you donate any unwanted vehicle to us at Goodwill Car Donations, you'll be extending a helping hand to them. We'll sell your donated vehicle through an auction and hand over the proceeds to the Goodwill organizations serving your area.
Thanks to your donation, these IRS-certified 501(c)(3) nonprofits will be able to provide more deserving individuals in your community with job and livelihood opportunities, disability benefits, financial assistance, family support, internship programs, scholarships, and other community-building support services.
As a Goodwill donor, you'll be entitled to a fast and free towing service anywhere in the country. You'll also have the privilege of claiming the highest possible tax deduction in the next tax season.
Moreover, your charitable contribution will bring you an immense sense of satisfaction, knowing that you're empowering the less fortunate residents of your community through learning and work.
Since we accept almost all vehicle types for donation, feel free to donate a car, truck, van, RV, or even an old riding lawnmower. We're not picky with donations, accepting even those that are old and no longer in good condition.
Check out our FAQs page for more information about our vehicle donation program, including our quick and easy donation process. If you have questions, call us anytime through our toll-free hotline at 866-233-8586 or message us here.
Become a Champion for the Disadvantaged Today!
You'll become the champion for the disadvantaged folks in your community when you donate a vehicle to Goodwill Car Donations. Your car donation will help them lead healthy and productive lives. Call us at 866-233-8586 or fill out our secure online donation form now!