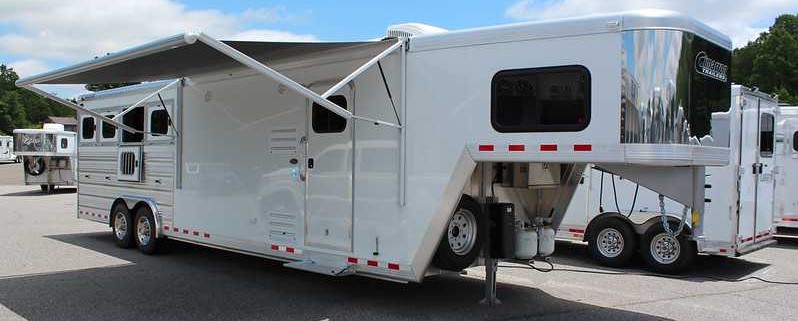 Horse Trailer Donations: Make a Massive Impact in Your Community
If your old horse trailer no longer serves its purpose and you now want to get rid of it, weigh your options carefully before deciding on what to do. Hold your horses if you're thinking about selling it yourself. That will just burden you with unnecessary stress.
Selling your rickety horse trailer isn't as easy as it may sound. There's just not a lot of demand for vehicles to transport horses. Not only is it a hassle to find a potential buyer, but you'll also have to spend a lot of money, time, and effort to repair the trailer to make it sellable, advertise its sale, and negotiate with prospective buyers.
Your best option, one that will provide you great value, is to donate your horse transport to us at Goodwill Car Donations through our horse trailer donations program. When you do so, your donation can transform the lives of disadvantaged individuals and families in your community. At the same time, you'll get your share of rewards for your charitable contribution.
We will send your horse trailer to one of the best auction houses in our network. With our wide reach and millions of used-vehicle buyers, we can easily sell even a hard-to-sell vehicle such as your horse trailer. Moreover, we will see to it that it gets sold at its highest possible price so you can claim a maximized tax deduction from it.
Once your horse trailer gets sold, we'll turn over the proceeds to the Goodwill organizations in your local area. These IRS-certified 501(c)3 nonprofits provide deserving disadvantaged individuals and families in your area with job and skills training, career opportunities, vocational and educational services, internship programs, financial support, livelihood assistance, and other critical community-building support services.
Why Choose to Donate to Goodwill?
If you're still a bit unsure on donating your horse trailer to Goodwill Car Donations, allow us to put your concerns to rest. We guarantee that your participation in our horse trailer donations program will turn out to be one that will please you no end. Not only will you feel a deep sense of pride and fulfillment, knowing the benefits your donation will bring to your community, you'll also enjoy these awesome rewards:
You'll be eligible for a maximized tax deduction.
You'll be able to enjoy a hassle-free donation experience.
You'll save money since you no longer need to take your old horse trailer to the shop for maintenance and repairs.
Paperwork will be efficiently handled by our team on your behalf.
You'll receive free towing services from a licensed towing company.
Our Seamless Donation Process
We guarantee that you'll enjoy a smooth donation process when you take part in our horse trailer donations program. We won't bore you with an endless list of instructions because we've narrowed everything down to three simple steps.
Here's how you can impact the lives of disadvantaged people in your community while getting rid of an unwanted horse trailer:
Reach out to us.
You can call 866-233-8586 or fill out our online vehicle donation form to give us the information that we need about you and your horse trailer.
We pick up your trailer.
Tell us your desired date, time, and location for your trailer's pickup. You won't have to pay for anything because towing's on us!
Receive your tax-deductible receipt.
We will send you by mail or email your 100-percent tax-deductible sales receipt following the sale of your horse trailer at auction. You can claim as your tax deduction the full amount printed on the receipt. Under certain conditions, you can also claim as your tax deduction your vehicle's fair market value.
For more information about our horse trailer donations program, feel free to check out our FAQs page. If you have questions or concerns, call us at 866-233-8586 or leave us a message here.
You Can Also Donate Other Vehicle Types
Aside from your old horse trailer, you can also donate other types of vehicles to us at Goodwill. We accept vehicles that are no longer in good running condition. We welcome almost all types of vehicles except those that are abandoned or stolen simply because we require proof of ownership from our donors.
We have donors who have misplaced their vehicles' titles. If you're one of these folks, simply get in touch with one of our title experts at 866-233-8586 so that we can help you get a replacement title quickly.
Here's a list of the various types of vehicles that are commonly donated to Goodwill Car Donations:
Traditional automobiles and trucks: sedans, hatchbacks, vans, luxury cars, sports cars, pickup trucks, box trucks, SUVs;
Recreational vehicles: motorcycles, cruisers, sports bikes, four-wheelers, buses, campers, RVs, buses, motor homes;
Watercraft and aircraft: Jet skis, sailboats, yachts, noncommercial planes;
Specialized vehicles: snowmobiles, ATVs, riding lawnmowers, motorized wheelchairs, golf carts.
Donate Your Unwanted Horse Trailer Today
Taking part in our horse trailer donations program is the easiest way to make a massive impact in your community while you get rid of a vehicle that you've been itching to dispose of. Contact us at 866-233-8586 or fill out our online donation form to get started with your horse trailer donation!