Photo by Dean under Unsplash License
Golf Cart Donations: One Simple Act Can Make a Lasting Impact
Have you been itching to get rid of an old golf cart that's been sitting idly in your garage for ages? Do you think it no longer makes sense to continue keeping it on your property?
We're here to tell you that you can use that to support struggling disadvantaged individuals in your community. All you have to do is to donate your golf cart to us at Goodwill Car Donations.
We created our golf cart donations program to generate extra funding for Goodwill organizations across the country. These IRS-certified 501(c)3 nonprofits provide deserving individuals with job training, employment opportunities, livelihood assistance, and other critical community-building support services. Goodwill provides all these services to empower the unemployed and impoverished individuals in your area to harness their full potential so they can live productive and meaningful lives.
Experience a Hassle-Free Donation Process
If you still haven't found a golf cart donations program in your city that offers top quality service, you can stop looking now. Goodwill Car Donations is here to grant your wish!
Since we don't want our donors to go through a strenuous donation experience, we've designed a donation process that offers utmost convenience. You don't even have to worry about paperwork — we got that covered.
Contacting us is the only step you'll be doing. Provide us details about your golf cart and let us know when and where you want us to collect it. Don't worry about money since the towing fee is on us.
We will coordinate with a professional towing company to pick up your golf cart. We will issue you a towing receipt before we take your golf cart. This receipt will release you from any liability on your donated vehicle. This receipt will also allow you to cancel your golf cart's registration and insurance coverage.
It's alright if you can't meet our towing crew on the day of the pickup. Just inform us about this ahead of time so we can give you additional instructions.
Once we have your golf cart donation, we'll place it up for auction. Several days after it is sold, we will mail or e-mail you your 100-percent tax-deductible sales receipt. You'll need this receipt to claim a tax deduction on this in the next tax season.
For more information on our donation program, you may check out our FAQs page. For inquiries, you may send us a message or talk to us directly at 866-233-8586.
The Benefits You'll Get from Your Golf Cart Donation
Donating your golf cart to Goodwill is a decision you definitely won't regret. Besides the opportunity to cut your tax bill, you will be enjoying other great rewards. Expect these perks to come your way:
A quick and painless donation process;
Zero paperwork for you;
Free pickup at your convenience;
Quit paying needlessly for your golf cart's repair, maintenance, insurance, and registration fees;
Skip the hassles and cost of selling an outdated golf cart.
The Types of Golf Carts You Can Donate
Whether you got an old golf cart that's about to give up on you, or a perfectly running one that you just don't need anymore, we'll be more than grateful to have it at Goodwill. We're not choosy when it comes to the condition of the vehicles being donated to us. We even take golf carts that have some missing or defective parts.
Our golf cart donations program is open to pretty much all sorts and models, such as the following:
Electric golf carts
Diesel golf carts
Remote-controlled golf carts
Gas-powered golf carts
Golf pull carts
Luxury golf carts
You can donate to Goodwill not just your golf cart but your other unneeded vehicles as well. We accept standard cars, motorcycles, trucks, RVs, campers, boats, jet skis, snowmobiles, planes, riding lawnmowers, and many other vehicles. The more vehicles you can donate, the more needy Americans you'll be able to help and, of course, the more tax incentives you can get!
Show Disadvantaged Americans that You Care
Don't you just love the idea of making a difference in your community? It's time to help your fellow Americans who are burdened with disabilities and other disadvantages. Take part in Goodwill's golf cart donations program by calling 866-233-8586 or filling out our online donation form now!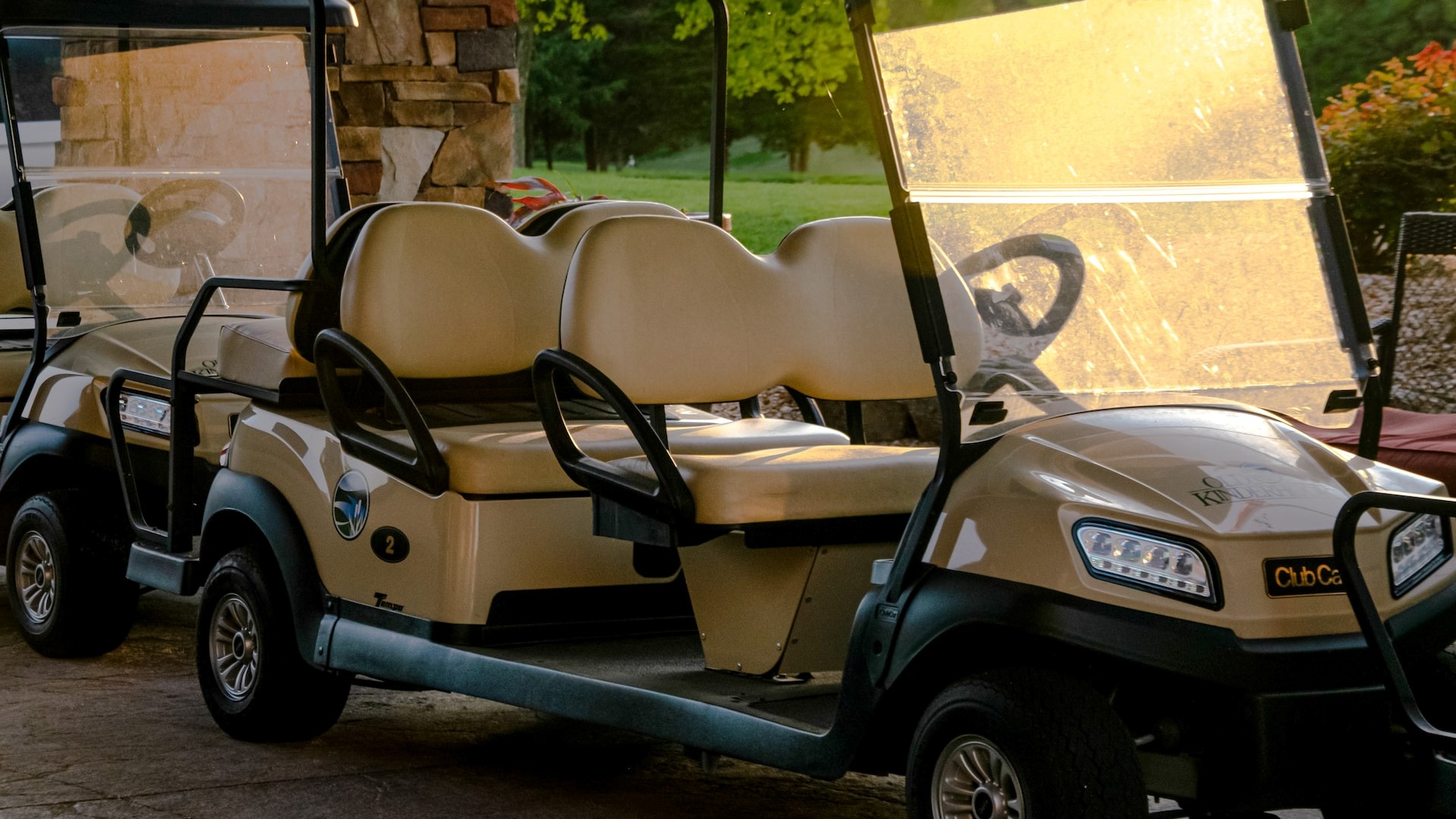 Photo
by
Ralph (Ravi) Kayden
under
Unsplash License