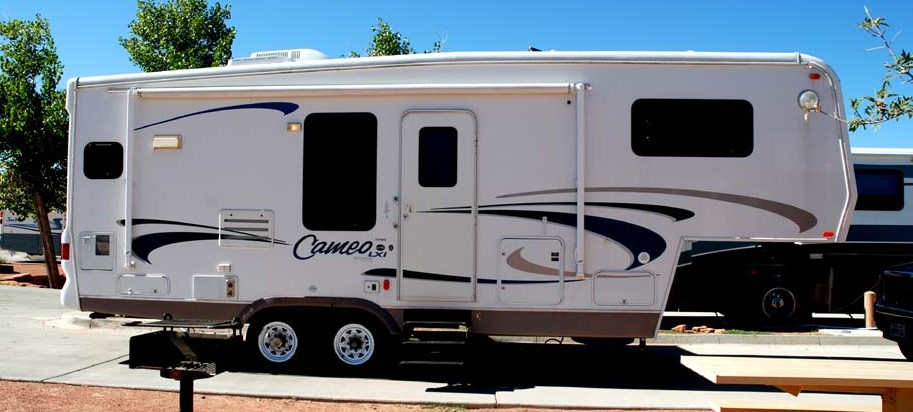 Toy Hauler Donations: Support a Noble Cause Today
Great news to anyone who owns an unwanted toy hauler and looking for the best way to retire it! Goodwill Car Donations offers a way for you to dispose of your clunker as conveniently as possible while allowing you to make a difference in your community.
Although toy haulers aren't exactly common, they can be very useful to those who need to transport motorbikes or some other personal items. Other people use their toy haulers as living space that's perfect for camping and cross-country adventures.
Your toy hauler must have given you lots of happy memories with your loved ones in the past as you used it to explore the countryside and commune with nature.
However, there will inevitably come a time when a vehicle hits the end of the road, having already served its purpose. If you're facing this moment, your best option is to donate it to a charity that supports a noble cause and treats its donors well. You will never go wrong if you choose Goodwill Car Donations as the recipient of your toy hauler donation.
How We Will Use Your Toy Hauler Donation
When you make a toy hauler donation to us, we will sell your travel trailer RV through an auction and turn over the proceeds to the Goodwill organizations in your area. These IRS-approved 501(c)3 nonprofits cater to disadvantaged individuals or those who are burdened with disabilities, lack of education, and other impediments to gainful employment and decent livelihood. They offer these individuals the chance to empower themselves and gain financial stability by providing them with the following services:
Job and skills training
Career opportunities
Vocational and educational services
Financial support,
Livelihood assistance, and
Other critical community-building support services.
Brace Yourself for Your Donation Perks!
Even as your charitable act enriches your own life in more ways than you can possibly imagine, taking part in our toy hauler donations program will also allow you to enjoy these benefits:
Since we only have your convenience in mind, we won't oblige you to drive your toy hauler to our facility. Instead, we'll send out a licensed towing company to pick up your vehicle from any location of your choice.
You won't have to sell your toy hauler yourself.
When you donate this RV to us, you won't have to spend your time and money on advertising, taking calls, showing your toy hauler to prospective buyers, and negotiating for its selling price.
You'll experience a simple and straightforward donation process.
Donating your vehicle to us is the most convenient way to get rid of it. We'll handle everything for you, including paperwork and logistics.
You'll reduce your tax bill.
Goodwill organizations are IRS-certified 501(C)3 nonprofits. That's why your toy hauler donation will automatically qualify you for a maximum tax deduction in the next tax season.
How to Donate a Toy Hauler to Goodwill
If there's one thing that we're proud of, it's our quick and hassle-free donation process that guarantees our donors a satisfying giving experience.
If you're wondering how you can donate a toy hauler to us, check out this simple guide to our donation process.
Contact us.
You can either call us at 866-233-8586 or fill out our online donation form. Either way, you'll be asked to provide us with your contact information and a few basic details about your toy hauler.
We'll pick up your toy hauler for free.
Once we've verified the details you've provided, we'll ask you to give us your preferred schedule for your vehicle's pickup. On the day designated with you, we'll send a tow truck to the location of your choice to pick up your toy hauler at no cost to you.
We'll send you your tax-deductible receipt.
Once your vehicle is handed over to us, we'll coordinate with our nationwide network of vehicle liquidation vendors to have it auctioned off for the highest price possible. Once sold, we'll have your tax-deductible sales receipt mailed to your address so you can use it to claim your tax deduction in the next tax season.
If you have any questions or concerns, feel free to call our toll-free hotline 866-233-8586. We are always on standby to answer your call. You can also send us a message. For more information, visit our FAQs page.
Other Vehicle Types You Can Donate
Aside from your toy hauler, you can also donate to Goodwill other vehicles that you no longer use and want to get rid of. We accept almost all vehicle types regardless of their condition.
Here's a comprehensive list of the various types of vehicles we accept at Goodwill Car Donations:
Cars: sedans, luxury cars, sports cars, wagons, coupes, convertibles, hybrids, hatchbacks
Recreational vehicles: campers, travel trailers, snowmobiles, Jet Skis, RVs, motorhomes, pop-up trailers, 5-wheelers
Vans: cargo vans, passenger vans, family minivans, camper vans
SUVs: compact, midsize, full-size or crossover versions
Motorcycles: scooters, off-road bikes, touring bikes, cruisers, sports bikes, choppers
Trucks: box trucks, extended cab pickup, panel trucks, pickup trucks
Boats: fishing boats, sailboats, speedboats, houseboats, pontoon boats, tugboats, yachts
Specialty vehicles: riding lawnmowers, motorized wheelchairs, noncommercial planes
Fleet vehicles: cars, passenger vans, cargo vans, SUVs, pickups, trucks, buses
Work-related vehicles: construction vehicles, tractors and farm equipment, buses, large trucks, landscaping vehicles
Help the Needy with Your Toy Hauler Donation

Extend a helping hand to the disadvantaged people and families in your community. Your toy hauler donation can help turn their lives around. Call us at 866-233-8586 or fill out our online donation form now!