Why Donate to Goodwill-Easter Seals Minnesota?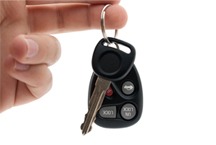 Your donation goes
to a good cause.
Free pick-up and towing, seven days a week.
No headaches associated with trying to sell a car yourself.
24-hour towing.
Tax benefits.
HOW TO DONATE A CAR TO GOODWILL-EASTER SEALS MINNESOTA
Fill out the vehicle donation form to the right.
One of our vehicle donation specialists will call you to confirm your information.
We schedule towing of your vehicle at a time and day that is convenient for you. Towing is always free.
We send out a tow truck, on the day designated with you, to pick up your vehicle.
You receive a receipt for donating your car for tax purposes.
For more information, visit our FAQs page for step-by-step instructions on car donations.
Goodwill-Easter Seals Minnesota

Our Mission: Goodwill-Easter Seals Minnesota eliminates barriers to work and independence.
Our Vision: A world where everyone experiences the power of work.
Serving Minnesota for nearly 100 years as a leader in employment services, Goodwill-Easter Seals Minnesota provides education, job training and placement services to eliminate barriers to work and independence.
Revenue from vehicle donations and retail stores, along with other contributions supports programs throughout the state. We place four Minnesotans in the work place every day.
Goodwill-Easter Seals in a 501©3 nonprofit organization and is rated an "A" grade from Charity Watch.
What We Do: Goodwill-Easter Seals Minnesota provides comprehensive, proven employment, education and independence services, including:
Job development and placement
Training and education
Disability benefits support
Youth employment
Re-entry services
Father project
Phone Number
866-551-8992
If you have any questions regarding the car donation process,
give 
us a call 
toll free at 866-551-8992.
Donate Any Type of Vehicle
The Goodwill-Easter Seals Minnesota Car Donation Program will take a range of vehicles in any condition as a donation to benefit our community programs.
Do have a car or boat in great condition that you'd like to donate? You will provide a lot of value to supporting our programs. However, we gratefully accept old and nonworking vehicles as well.
No matter whether the vehicle won't turn on or has a lot of other damage or repairs needed, your vehicle will be valuable to us and the people we help.
Vehicle Varieties Acceptable for Donation
In addition to taking vehicles in an assortment of conditions, we also accept all sorts of vehicle types as donations — as we mentioned above, everything from minivans to RVs. Here are some of the main vehicle categories we accept in a wide range of makes and models, in addition to a breakdown of types:
Standard Vehicles
Most people have a car, truck, van or SUV when they plan to donate a vehicle. These are common donations and ones we are more than happy to accept. You can donate all sorts of types within these categories, including:
Cars: sports cars, sedans, convertibles, coupes and more
Trucks: pickups, extended cabs, box, panel and others
Vans: minivans, passenger, cargo
SUVs: crossovers, compact, midsize, full size
Fun Vehicles
There are a range of vehicles that people purchase for fun and then don't end up using as much as they intended, gas or upkeep gets too expensive or their lifestyle changes. If this happens, donation is a great option for getting rid of the vehicle. Consider donating these types:
Motorcycles: cruisers, off-road, chopper and more
ATVs: three-wheelers, four-wheelers
Boats: speedboats, sailboats, etc.
Other: jet skis, campers, RVs, planes
Work Vehicles
Maybe you have work-related vehicles, such as:
Buses
Large trucks
Construction vehicles
Landscaping vehicles
As you can see, we are happy to take all different vehicle categories as part of our donation program. If you are unsure if we'll accept your vehicle, simply get in touch and we'll let you know if we can take it.
We take care of the towing, so that's not a concern you need to have. In fact, we make our donation process incredibly easy, so there's nothing holding you back.
Get Started With Vehicle Donation
Do you have a vehicle you've been putting off selling, or you don't think you'd get much for it if you did? Or maybe you would simply like to support a local organization and the people it serves. Goodwill Car Donation provides the perfect opportunity to get rid of your unwanted vehicle and support a cause all with the same action.
To get the ball rolling, call 866-233-8586 or use our website form above!
Quick & Easy
Car Donation
Just fill out the form below or
Call 866-551-8992