5 Interesting Facts About Memorial Day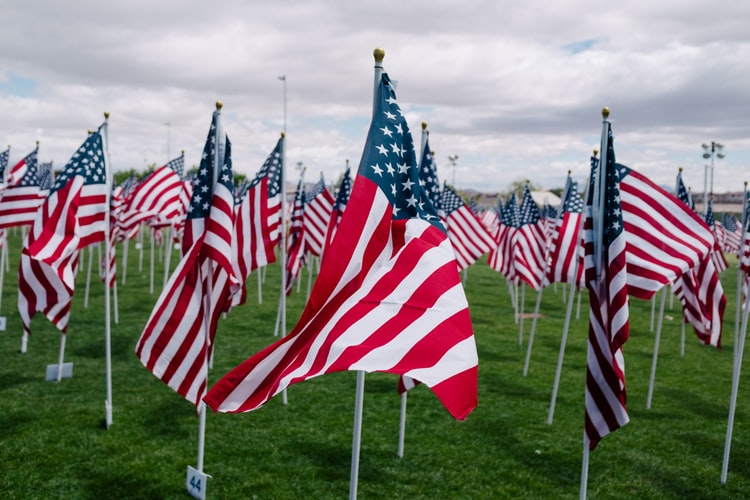 Let's Remember Our Fallen Heroes on May 25th
Memorial Day is a day to remember those heroes who fought and sacrificed their lives to uphold our American way of life and our security.
It's a federal holiday observed on the last Monday of May marking the unofficial start of summer. This year, it falls on May 25th.
Memorial Day is so much more than a three-day weekend getaway. It's a day when we give our country's fallen warriors the appreciation, respect, and recognition they so rightfully deserve.
In 1968, Congress passed the Uniform Monday Holiday Act (UMHA), which led Memorial Day to be observed on the last Monday of May, so that in effect it would create a three-day weekend.
Today, Americans observe Memorial Day with parades and recognition programs in honor of those who have fought and died in service of their country.
5 Facts You Probably Didn't Know About This Holiday
Nowadays, we often observe Memorial Day by coming up with plans that take advantage of it being part of a three-day weekend. Barbecue parties, picnics, and what-not have become synonymous with this holiday as Americans take advantage of the extra time they have off work.
Though Memorial Day is an event observed every year, many aren't that familiar with its history or with the facts behind the celebration.
Check out these five interesting facts about this day of remembrance:
It was originally known as Decoration Day.
The first Decoration Day was observed on May 30, 1868, when flowers were placed on the graves of Union and Confederate soldiers at Arlington National Cemetery in Arlington, Virginia. The reason why it was called Decoration Day was because of the practice of decorating the graves of fallen soldiers with flags, flowers, and other symbolic items. Over time, the name changed and evolved to what it is now known as Memorial Day.
The President or Vice President usually gives a speech.
While not required, it's customary and has been a time-honored tradition that either the President or Vice President of the United States gives a speech during Memorial Day. It is usually delivered at the Tomb of The Unknown Soldier at Arlington National Cemetery. In preparation for the Memorial Day weekend, soldiers decorate the more than 260,000 graves at Arlington Cemetery with American flags.
Civil War soldiers were the ones originally honored by the holiday.
With over 750,000 soldiers dead on both sides of the U.S. Civil War (1861-1865), Memorial Day (or Decoration Day as it was known back then) was pretty much a response to the massive loss of life that the war had caused.
The 3-day Memorial Day weekend was nonexistent before.
Memorial Day used to be observed on the 30th of May regardless of the day of the week on which it fell. In 1968, the Uniform Holidays Bill was passed as part of a move to use federal holidays to create three-day weekends. Since 1971, Memorial Day holiday has been officially observed on the last Monday in May, creating the three-day weekend everyone is so familiar about.
No one knows for sure where the first celebration took place.
Many cities claim that the first Memorial Day celebration took place in their area. Even though President Lyndon Johnson declared Waterloo, New York as the "Birthplace of Memorial Day," other places celebrated the holiday way before Johnson's declaration.
Play Hero to the Needy Folks in Your Community
As we recall the valor of our fallen heroes during Memorial Day, their deeds should inspire us to play hero to our less fortunate fellow Americans living in our community. They include those who are saddled by disabilities, lack of education, and other personal circumstances that prevent them from securing gainful employment and living a decent and productive life.
Helping them turn around their lives is not difficult at all. All you have to do is to donate a car that you're no longer using to us at Goodwill Car Donations. We will sell your vehicle through auction and use the proceeds to support the community-based programs and services of the Goodwill organizations in your local area. These IRS-certified 501(c)3 nonprofits provide disadvantaged individuals with job training, employment opportunities, livelihood assistance, and other critical community-building support services.
Donating lets you dispose of your clunker in the most convenient way possible and also gets you a boatload of rewards at the same time. Goodwill Car Donations will cover the cost of your vehicle's towing. You're also be entitled to claim a handsome tax deduction within days of your car being auctioned off.
Almost all types of vehicles are accepted in our program, even the ones that no longer run.
For information on our vehicle donation process and other details, feel free to check out our FAQs page. If you have questions, call us at 866-233-8586 or leave us a message online.
To Honor Our Fallen Heroes, Be One
You can pay homage to our valiant heroes on Memorial Day by taking care of your neighbors in need. Become our donor and help us transform the lives of the disadvantaged individuals in your community. Call us at 866-233-8586 or fill out our online donation form today!